This section will (hopefully) always be under construction. My sincere thanks are extended to those who take the time to let me know how they have been helped.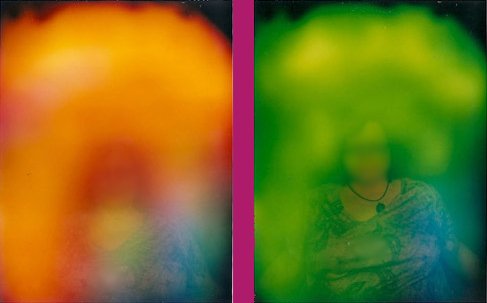 "A picture's worth a thousand words..."
These are "Before" and "After" photos done at the June 2010 Texas Psychic Fairs event of someone I worked with. (Thank you very much for permission to use them!) The "Before" photo on the left is cloudy, with murky and dull yellows and reds predominating, indicating anger, anxiety and stress. It was taken about 2 hours prior to our session. The "After" photo on the right is much clearer, and the colors are not murky or dull. The yellows are brighter, indicating joy and contentment, and the greens of healing energy are very evident. Clear greens in an aura are believed to be a sign of getting in touch with yourself and emotional healing.
"I consider her an angel among us all"
October 25 at 11:41pm - Greetings light workers, I want to tell you all about a most special and amazing experience that just happened to me, tonight I was giving free readings and a lovely woman, Lois answered my call, unbeknownst to me Lois is an amazing healer, intuitive and light worker, the reading turned into a 4 hour healing session with Lois being the guide and teacher, she walked me through an amazing tapping session that helped me with past issues Of abuse, hurt, abandonment and self sabotage, I recommend Lois very highly, even though I just met her tonight ( Oct 25th ) I consider her an angel among us all, Lois thank you for everything , you have an amazing gift, and thank you for helping me move past my issues into a brighter future with a beautiful garden." --Mary M., Las Vegas, NV (NOTE: This testimonial refers to work that was done via an online session.)
"Simply Amazing!!"
Her intuition was exactly on target with the blocks that I had been working on. I was not able to clear up some of the physical ailments on my own. After being worked on by Lois and using her guidance to help me see where I was not releasing, it has not only helped me heal faster, but has changed the thought patterns that had kept the pain coming back and not fully being healed. She used all kinds of techniques that were so helpful to me. I am so thankful for all the clarity and love that she has to help me to be my best!! I can't wait to work with her again! Thanks so MUCH!!" --Christina Z., Corpus Christi, TX
"A gifted energy worker"
"Lois is a gifted energy worker. Her special gift helped me tap into and shift some major emotional blockages that were holding me back. I felt an immediate release and a lightness of spirit, and it has lasted. Thanks Lois!" --T.D., Mansfield, TX
"Immediate and astounding change"
"After doing EFT work with Lois I noticed an immediate and astounding change in the way I felt. That change has continued in my life and the work she did has brought out a better me. I cannot thank her enough for she truly changed my life. I would gladly recommend her to anyone! -- Rachel P., Alice, TX
"Negative energy leaving my body"
"I came in and I told Lois that I felt like I was in a bubble or a black cloud or something. As she started working on me, I could actually feel the negative energy leaving my body." -- Rene H., Victoria, TX
"Spot on with what is needed"
"I recently had a healing/tapping session with Lois, we tapped away the upper back pain that I had been experiencing for several years, also tapped away an old teenage issue that I needed to get rid of. She is always spot on with what is needed to clear up my problems. Thanks so much for all the help!" -- A.M., Alice, TX
"Pulling out the bad stuff"
"I can not count the number of times that Lois has been able to 'pull' all the bad stuff out of my life. From a headache to bad tempers. Her powers are real. I admit I doubted, but no more. Sometimes you just have to set aside doubt and give people a chance -- Lois is worth that chance." -- B.P., Alice, TX
"There are still miracles in the world"
"Lois is one of the most loving and talented healers I have ever had the pleasure of meeting. Prior to working with her, I held on to a lot of experiences that were causing physical ailments in my body, but she helped me to release those negative energies, thus greatly reducing my stress level.

She also has helped my daughter on a number of occasions when she is in pain. I literally witnessed Lois's healing abilities when she managed to reduce a rapidly-forming 2-inch wide dark black bruise on my daughter's knee to a small, dime-sized pinkish mark in just a matter of minutes. Lois, I love you, and I can't thank you enough for helping me and those I love. There are still miracles in the world.-- M.S., Alice, TX
"Lois has changed my life for the better"
"My first encounter with Lois was during a reading and I honestly cannot 'Thank God' enough for that first encounter because I have met a walking Edgar Cayce that gives you a exact reading of any food that your body needs. Lois speaks to spirit and receives a hot line for your body. If it wasn't for Lois I would probably be at a local hospital with every med to cure a simple ingredient that I was missing in my body. I have been a vegetarian going on nine years and had been feeling horrible. I told Lois I needed to see a doctor. She said, 'Arlene, you asked me to ask Spirit, and I know you're not going to like this, but they keep telling me all you need is a good hamburger and some rest.' Sure enough, true to her word I ate the hamburger and I came ALIVE. I cannot even begin to say in words how grateful I am because if it wasn't for this incredible gift of tapping into Spirit I would be a very sick woman. But this is only one of Lois' amazing gifts -- her other gift with the Emotional Freedom Technique has helped me overcome stress and self-hatred. Her command of language employed with the tapping on the meridans has helped me overcome stress, self-hatred and has centered me back to normality. Every session that I have had with Lois has changed my life. I walk as a whole person instead of a half person. I cannot express my gratitude to this divinely-in-tune instrument of GOD. Lois has changed my life for the better -- I truly enjoy the freedom of releasing what doesn't belong to me through the Emotional Freedom Technique. Thank you from my heart." -- Arlene Y., Corpus Christi, TX
"I Thank Lois for all that she has given from her heart"
"The employment of positive affirmations that Lois uses with the emotional freedom technique has helped me release a great amount of stress and her Reiki during times of healing have been immeasurable to me and my physical body. I Thank Lois for all that she has given from her heart. The Emotional Freedom Technique and Reiki from Lois has been a healing benefit to me and my family. Thank You" -- George Y., Corpus Christi, TX
"I felt empowered to take control"
"I had a session with Lois recently and found it to be quite profound, clearing, and positive. Before the session, I was stressed and felt intense, and during the session, I settled down and became very relaxed. More importantly, the session overall brought me to a space where I felt empowered to take control of situations in my life which were affecting me. I also realized that some of the things we worked on during the session resolved themselves within a matter of days, thus giving me control and contentment back in my life where I could begin to manage my situations more effectively." -- Marva M., Houston, TX
"My mind is finally focused again"
"What can I say? Just the present of feeling better was almost immediate for me -- that's the only way I can explain it. My train of thought is back after the past three months of being not there -- my mind is finally focused again and I know what I have to do. It feels good." -- Mando R., Alice, TX
How may I be of service to YOU?